Posted by Ecokeys on 23rd Sep 2022
A disk clean up can be beneficial in a number of ways. Just as having a spring clean and getting rid of clutter in your house is required once is a while. Looking after the space available on your machine and "de cluttering" works in the same way. The less clutter the quicker you can work or fit new applications on your home machine without errors occurring.
We will discuss the inbuilt windows applications which help remove files that are not required and also some tips to keep your laptop/desktop running smoothly.
Firstly, we need to check how much space is actually available on your hard drive. This can be done by typing "this pc" in the search box next to the start button, then select "this pc"
This will bring up the following screen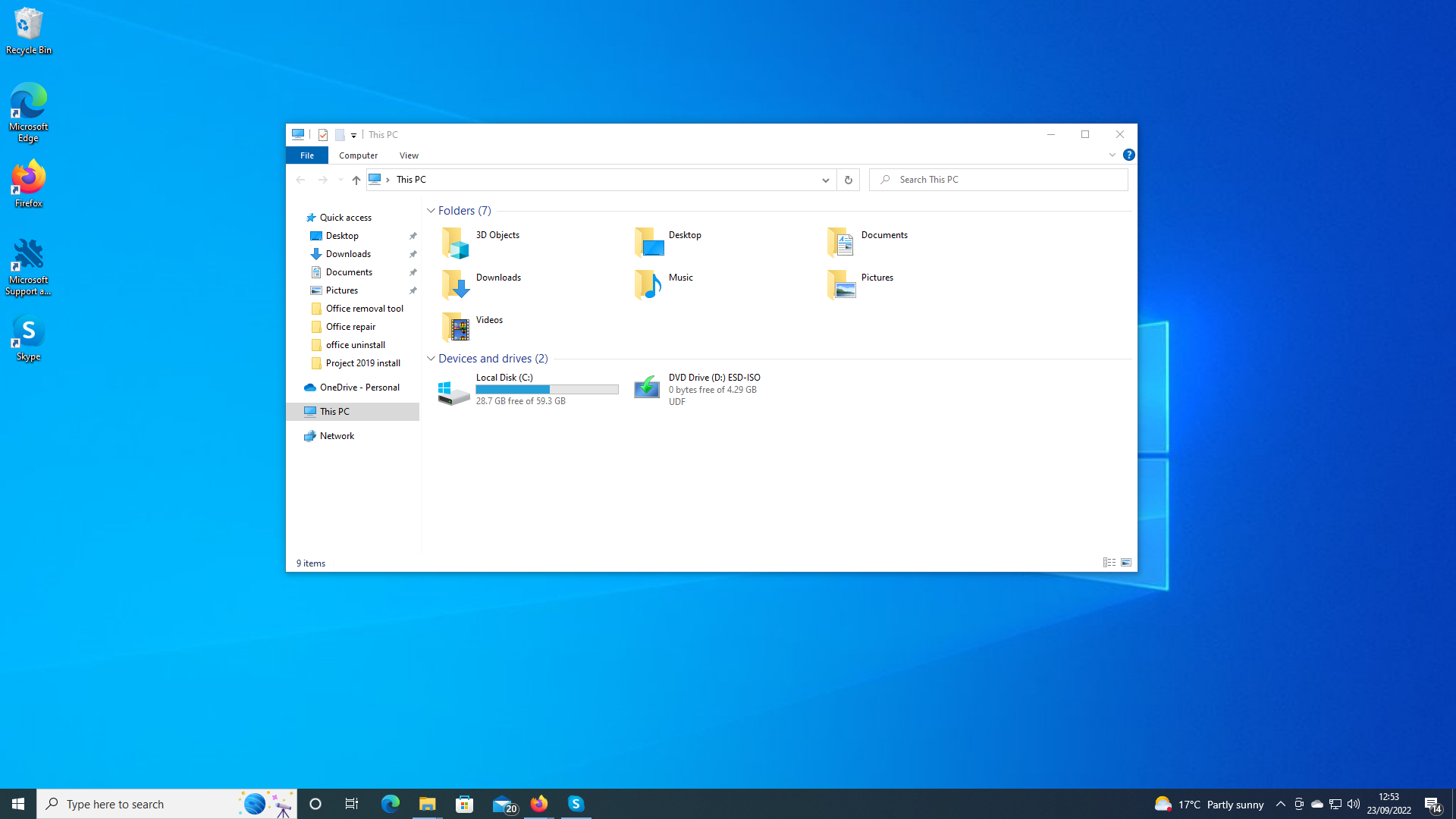 This screen shows all your available drives on your laptop/desktop and their usage. Your primary use drive on a home machine is normally the C: drive. This is the drive where most install their applications and unless you use cloud services or a backup device save their documents.
As you can see there is a blue line under your c: drive this shows the space available on that drive. In the example above the c drive is 59.3 GB with a usage of 28.7, we have used about half the space available on the drive. This is a quick way to see space used, if you have a near full blue line you need to take some actions to reduce the used space or worse case scenario consider purchasing a larger sized hard drive.
Before performing any tasks regarding file deletion, it is important to mention the need to backup. Although we are only showing you how to remove unwanted system files etc a backup is always advised. This should be a weekly/monthly task dependent on what you use your machine for. We always say you can repair/replace a machine but without a backup you cannot readily get back important family photos or that budget report you have updated for the past 3 years. Backups are important. There will be another article coming on backup procedures on the blog shortly.
Now we know how much space we have available we can start to clean up the machine. The first task is to run a disk-clean up. There is a windows application which can do these tasks with ease. Type disk clean-up in the search bar and select disk clean-up. The screen below will appear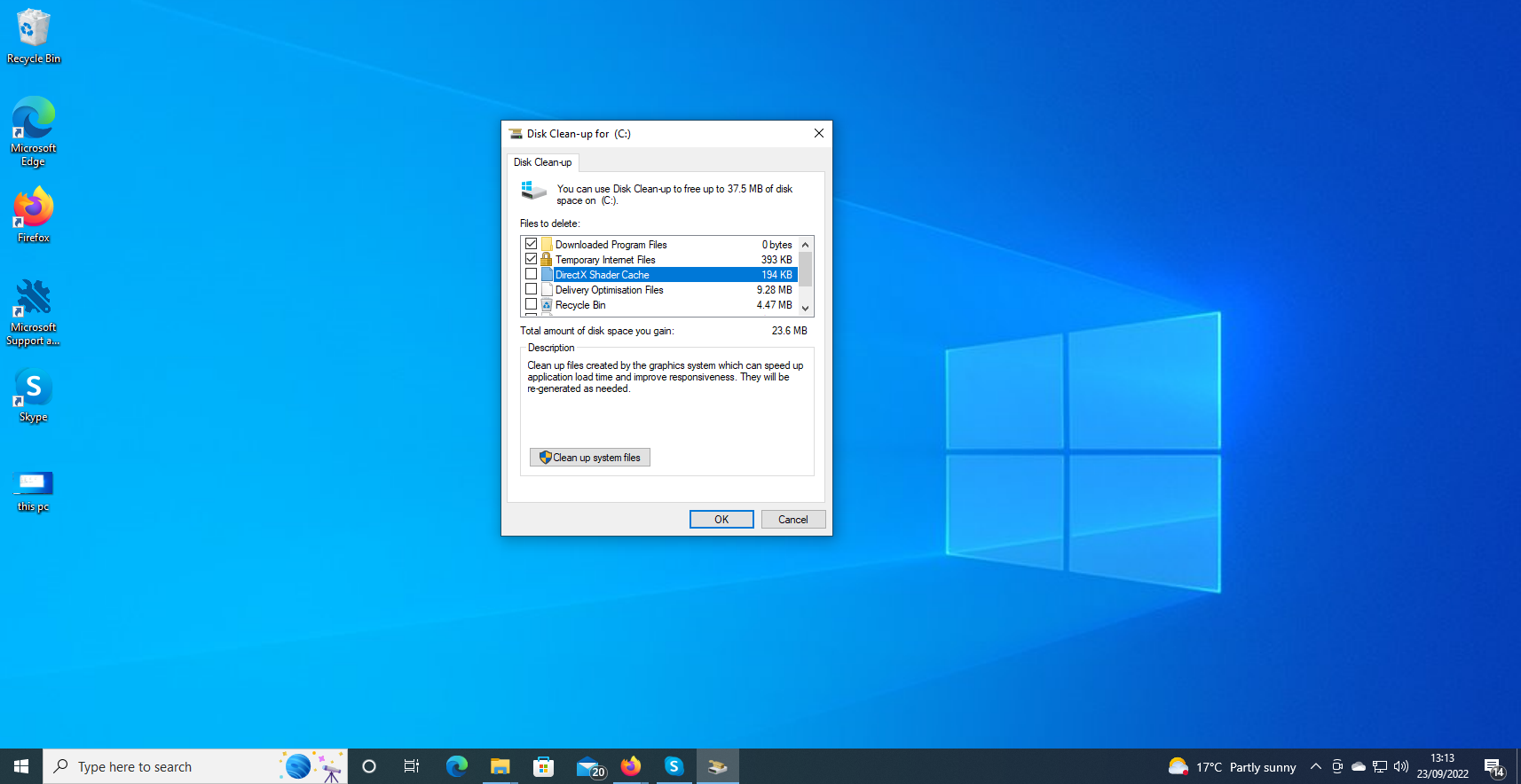 The disk clean-up tool scans your machine for files that are not normally required. It lists the different types of files, how much space they are occupying and a description for each type of file. You can put a tick in the box next to each file if you want to remove these files from your machine. If you do not want to remove certain file types take the tick out of the box. If you have had your machine for a while the important files to consider removing are "temp files" and "temporary internet files" unless you have a job where these files are required such as a web dev etc these files are safe to remove. Before putting a tick in "clear recycle bin" double check the recycle bin for any files you may need as once you select this the recycle bin is emptied.
Once you have selected the files you wish to remove click "ok" it will then ask you "are you sure" accept this then the application will then delete the files selected. Disk clean-up will automatically close once it has completed deleting the files. Restart your machine and then re-visit the "this pc" screen explained above to see how much space you have saved.
If your c drive is still showing as more than ¾ full we would suggest the following –
Check your downloads folder for files that are no longer required. Many apps do not need the files downloaded to initiate set up. Once the app has installed the installer is not normally required and can be removed. This isn't the case for all apps please google search "the app and is the installer ok to be deleted" before deleting anything from the folder. If you have files that can be deleted, right click and select delete (remember to also remove from the recycle folder)
Next remove any large documents from your "my documents" folder. If there are files there that are not used or family photos etc either purchase an external usb and transfer them or consider cloud storage. If there are documents you have no need for but are backed up delete these from the machine and recycle bin We find this clears the most space on a disk.
Now we have "de cluttered" your machine we always suggest to run a malware check and anti-virus check as part of housekeeping. There are many malware checkers available we use Malwarebytes; these checkers scan your drive for any unwanted malware and just with the virus check is important to run weekly/monthly to keep your system clean and free from security threats.
There are many external disk clean-up applications out there such as ccleaner system-one etc some are paid for apps, some free. We will delve into these in further blog posts in the future. If you keep on top of unwanted unneeded files this will help with the general speed of your machine and will enable you to install that shiny new app you wanted without having to remove files.
We hope this article helps in doing this please check our blog regularly as there are many more useful articles coming.