Posted by Ecokeys on 23rd Sep 2022
If you have a slow performing Office application such as outlook or a generic Office error message appears when opening an application there a few steps you can perform before a full reinstall of office is required.
If your laptop/desktop seems to have slowed down not just when working with office it is beneficial to do a clean up of your machine. Please look through our blog for advice on how to do this.
Please check the size of the files you are working with, right click on the file and see the file size. This can affect the speed of a certain applications for example if you work on an excel document and the spreadsheet is full of formulas, macros etc these can me memory intensive and affect the smooth running of excel. If outlook takes ages to load check your mailbox size if this is ¾ full maybe consider archiving emails. These are examples of things to consider before performing a repair or uninstall/reinstall of office as it is most likely a repair will not rectify the actual problem of slow running of an office application.
Before performing a repair, it is advantageous to google "your office app slow running – how to rectify" there are many quick fixes and Microsoft TechNet run through steps which could be quicker to implement than a office repair or uninstall/reinstall.
What is an office repair?
An office repair is a quicker way of resolving slow running apps or apps with error messages. When running a repair, the repair process restores office system files just as if you do a new install but you do not need to re-configure your office applications – add outlook email accounts, add macros to excel etc. Once the repair process is complete your settings remain intact it is only the office system files that are "repaired"

Performing an office repair
Type "control panel" in the windows search box next to the start button – then click/select control panel (at the top of the results)
Next, we need to change the view to "large icons"
At the top of the screen next to "adjust your computer settings is "view by:" click the down arrow and select "large icons"
Your machine control panel should list settings in alphabetical order. Scroll down and select "programs and features"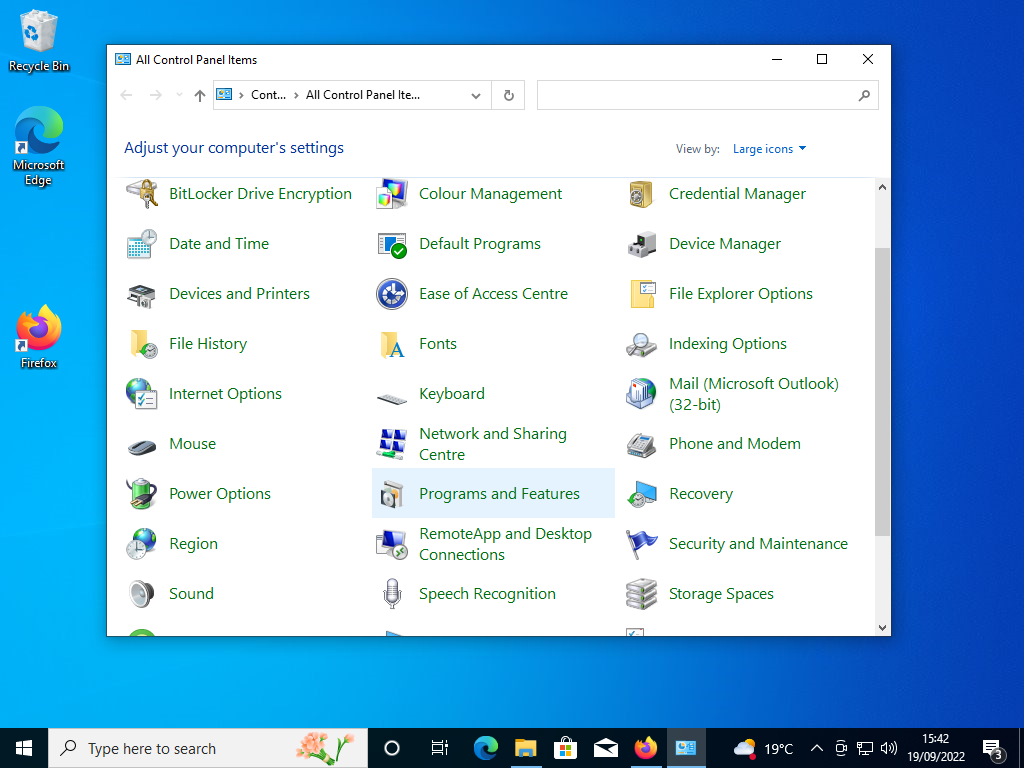 On this screen it will list all your installed applications on your machine, you will need to scroll down and locate your current installed office suite in the list.
Once located right click on the office suite and select "change" the following screen will appear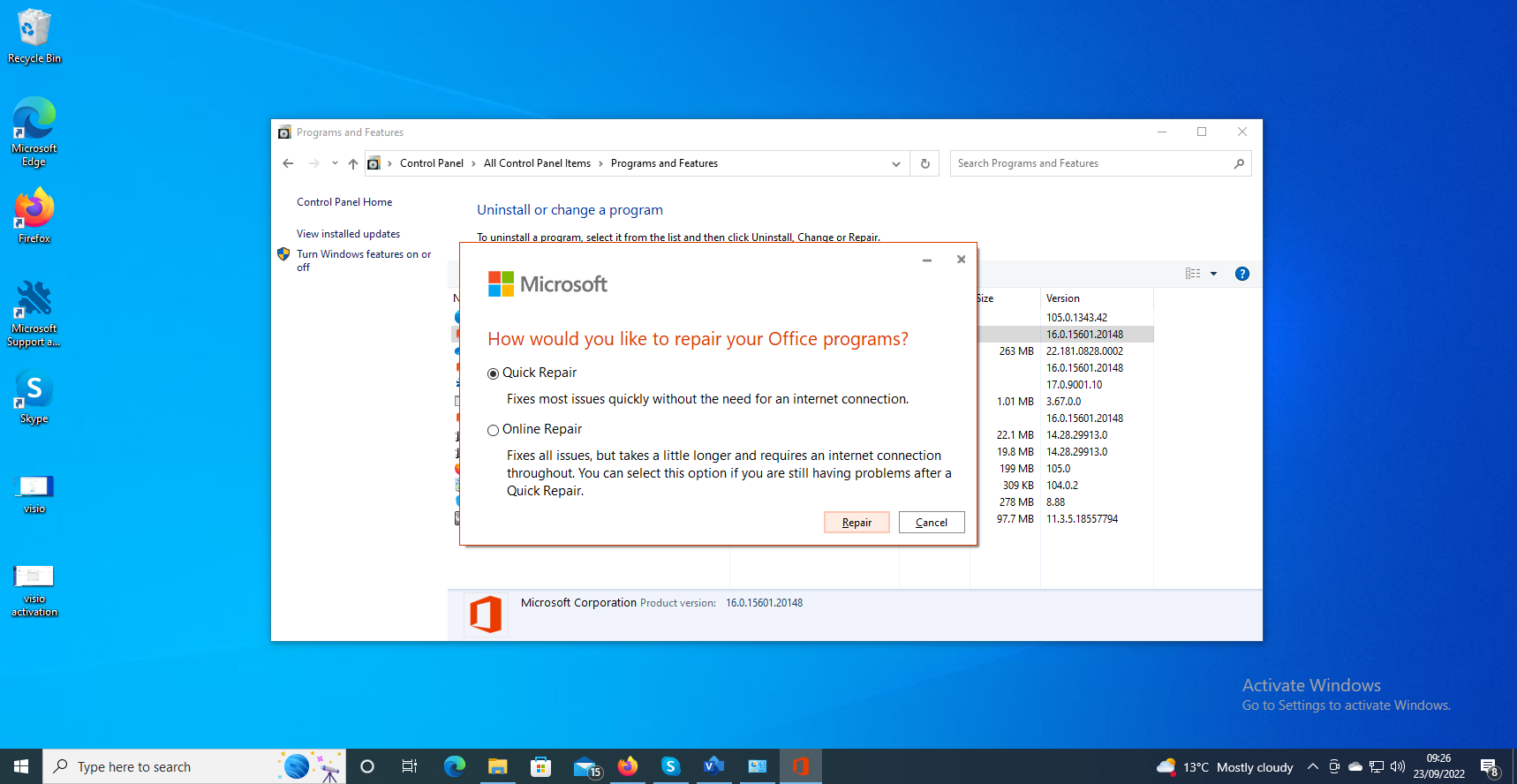 You have two options
Quick repair – A quick repair checks your system files, if any are missing or corrupt the repair fixes these files
Online repair – An online repair is essentially an uninstall/reinstall without your user settings and files being affected. This a complete repair but takes longer than a quick repair as it checks and fixes all files not just certain system files.
Which repair should I run? This will all depend on your time constraints and the problem you are experiencing. If you're on a deadline and you need to access outlook quickly the "quick repair" is obviously the option to try first. We would recommend running a quick repair first if this does not solve your issue run the complete online repair when you have no need to use your machine.
Click on which repair you wish to run and click repair. You will then have to confirm you wish to run the repair, click repair.
You will then get a message advising the repair is running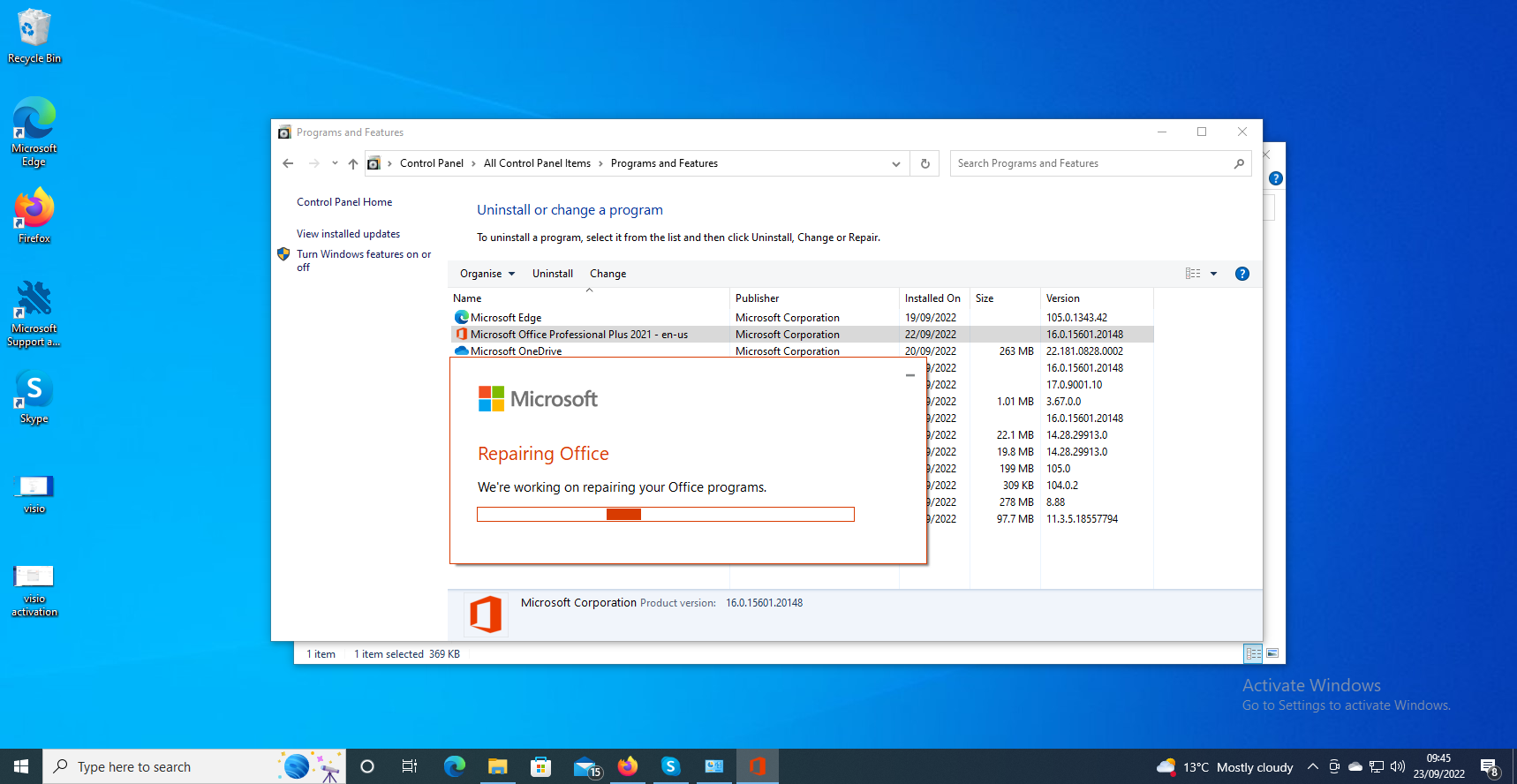 Microsoft then downloads/installs – repairs your current office suite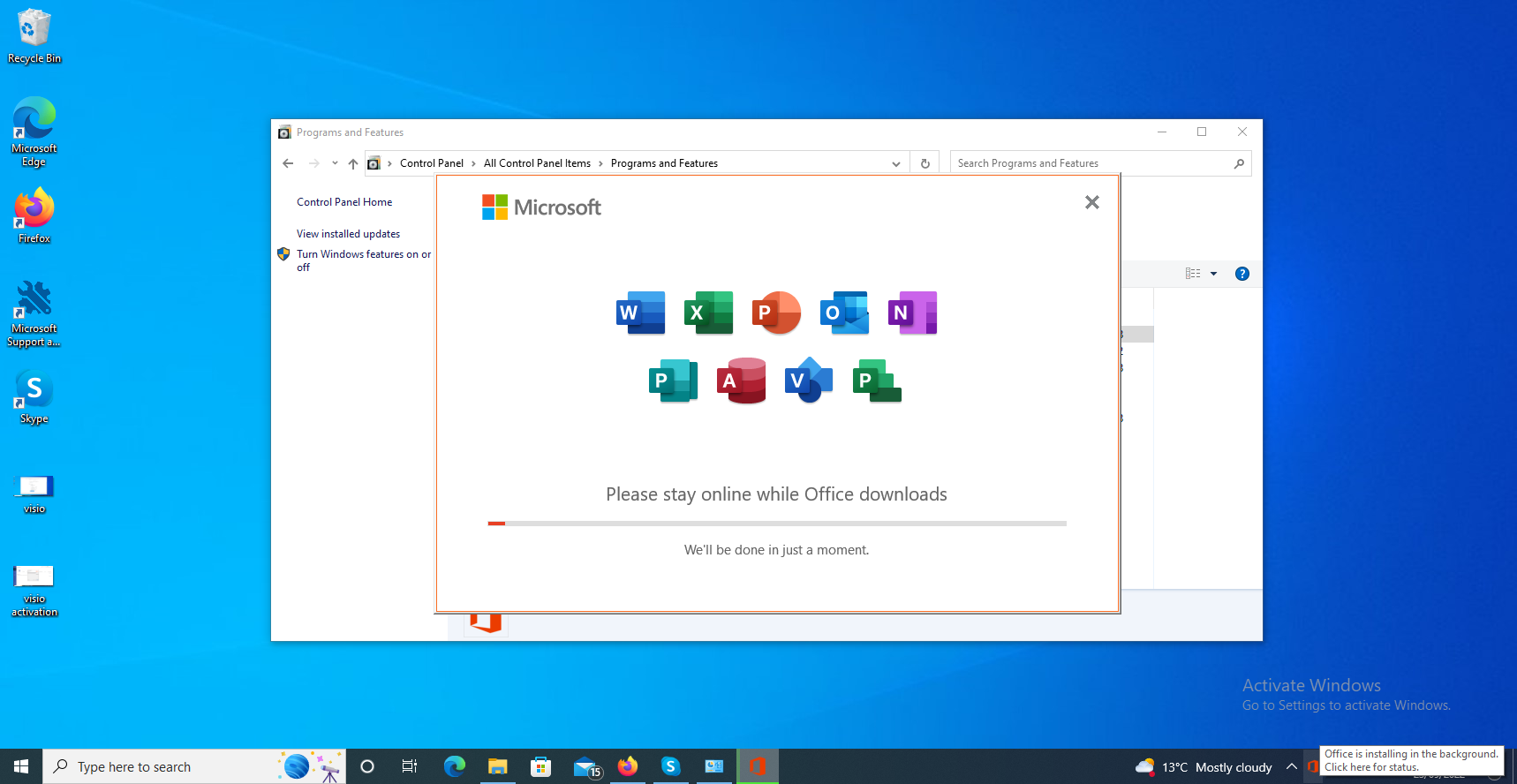 Once complete you will get the screen below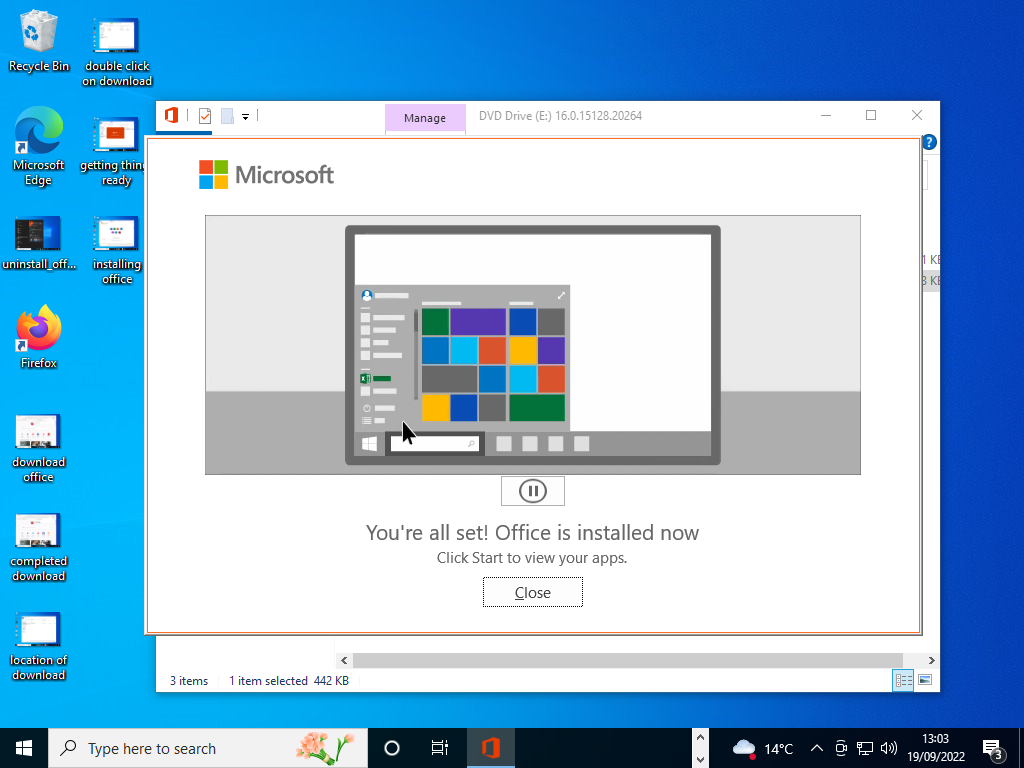 With the repair complete restart your laptop/desktop and then access the problematic app.
You should now be able to access your office apps and your office experience should be the same as when you first installed the suite. If the Office suite was purchased from ecokeys.co.uk and the suite is still slow running on all documents or there is an error message still appearing, it will be time to log a support email. Our Support team at support@ecokeys.co.uk will then advise how to proceed.
A repair is a good option to have when you have an urgent deadline or outlook suddenly errors. Running a quick repair if you have an average performing machine takes on average 10 minutes where an uninstall/reinstall of an office suite can be up to an hour + if you have a lot of settings to configure once reinstalled. All settings are intact after running a repair so there is no need to reconfigure your office suite.