Posted by Ecokeys on 12th Oct 2022
As with our mobile phone we can customise the ring tone, message tone, email tone etc so they are not the generic default sounds heard. This helps as the options are personalised to you. We can also change notification sounds on your Windows 10 Pc.
To get to the sounds options type "sounds" in the windows search bar and select "change system sounds" or go to control panel "sounds" and the "sounds" tab.
The following screen will appear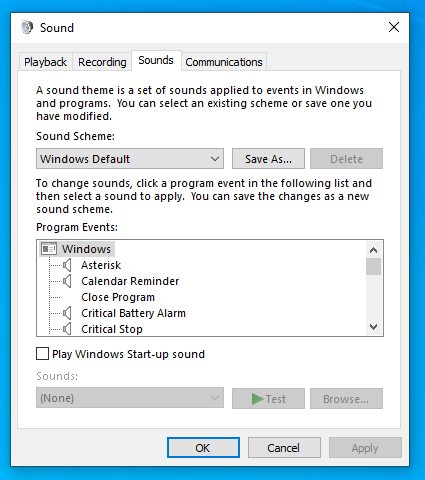 From this screen we can change various sounds such as changing the sound when an email is received. Just scroll to the option you wish to change you change, in this example we will change the email received notification.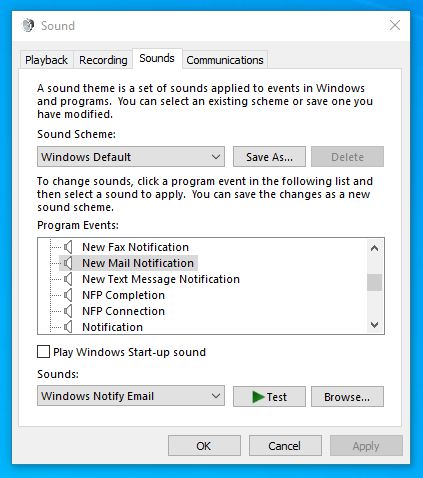 Scroll down to "new mail notification" you can see what sound is currently set for this notification in "sounds:" In the example it is set to "Windows Notify Email" if we click the down arrow next to the sound this will list all the available sounds available. Click on a different sound then click on "test" this will play the sound selected. If your happy with the sound selected click on "OK"
You can also use sounds other than Windows 10 default sounds. There are many sites available with custom sounds for Windows notifications just be careful where you download these files. Please be aware Windows 10 only recognizes .wav files. If your required sound is not a .wav file then the sound will not play. Once you have found and downloaded your custom sound, save the file in a location you can easily browse to such as "my documents". Open the Sounds options just as above and scroll to the windows notification you wish to change. Select "browse" at the bottom of the screen and browse to your saved downloaded file. You can then hear the sound selected for the notification by clicking on "test". Once you are happy with the sound selected click on "OK".
You can modify various sound notifications and save them as a sound theme. You could have sound themes for various reasons. Maybe a sound theme for working hours or a theme for if you're working late. To do this change all the sound notifications required and then go to "save as" at the top of the screen. Give the sound theme a name i.e work and click "OK". The sound theme will always be available to select in "sound theme" just click on the required theme.
As you can see changing your system sound notifications is easy on Windows 10 now you can know for sure it is your Pc notifying you of a certain action as you will have customized to your needs. We hope you found this helpful for further articles see our blog https://ecokeys.co.uk/blog/