Posted by Ecokeys on 27th Sep 2022
Screenshots are a great tool for when you're communicating with others and they do not have access to your screen. For instance, if you receive an error message when installing a piece of software, it can be far easier to just email across the screenshot than trying to type and explain the error received.
There are many different ways to take a screenshot in Windows 10 and even more options on Windows 11. This will be discussed in another blog post.
To take a screenshot of what's on your screen involves pressing the print screen key or the print screen key and shift/Alt on your keyboard.

The Print screen key is most often found in the upper-right side of the keyboard (not counting the number pad if your keyboard has one. The Print Screen key will usually be abbreviated to "PrtSc" or something similar

To take a simple screenshot of what is on your screen press the following –
(What works will depend on your make and model of your Pc)
Prt Sc
Shift + Prt Sc
Atl-Prt Sc
Open Paint and then press CTRL-V, this will paste the screenshot into paint. You can then save the screenshot by going to "File" then "Save" in the Paint app. You can then attach the image to an email and share your screenshot.

Snip and Sketch Screenshots
The other option to take a screenshot in Windows 10 (this method has the most options) is the snip and sketch method. This method enables you to take snippets from your screen and then highlight with the drawing tools if you need to emphasise anything on the screenshot.
If you press Shift-Windows Key-S the screen will go a grey colour and your mouse cursor will turn to a small cross.

There are a few options that you can select from here
Rectangular Snip (used as default)
Freeform Snip
Window Snip
Full Screen Snip
Full screen selection

We suggest playing around with these options until you find the one you need for your task. In this example we will use the rectangular snip
This option as in the name gives you the option to snip rectangular blocks from your screen. Hold down the mouse cursor and select which part of the screen you require (the selected will turn to your normal colour screen) once you have selected your required screen snippet remove your finger from the mouse.
The selected snippet will then be saved to your clipboard and a message will appear on the bottom right-hand side of the screen advising this. You can then click on this message and your snippet will be available on screen.
In the example below we have snipped a part of ecokeys.co.uk homepage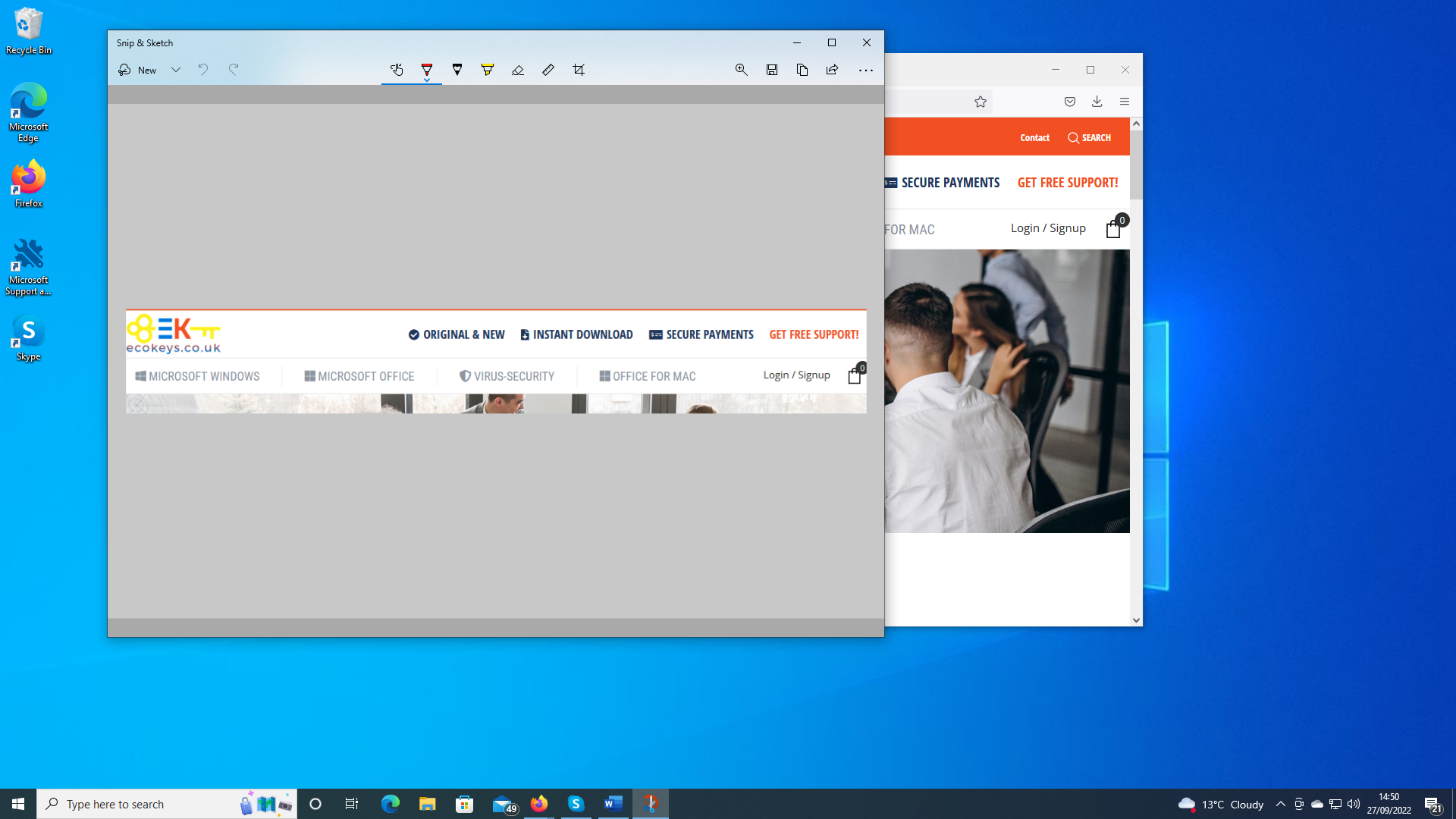 You then have the option to use a pen, pencil, highlighter, eraser, ruler, and cropping tool on your selected screenshot. The tools are located at the top-middle of the snippet screen. These tools can edit the selected screenshot and are mainly used to emphasise a part of the screenshot such as an error message etc.
In the example below we have highlighted "Microsoft Office" from the snip above and then saved the screenshot


As you can see this method has many options and you are not restricted to just taking a full screenshot and then having to open in paint to make edits.
This concludes how to take a screen shot with windows 10 if you have any issues as always you can contact our support team at support@ecokeys.co.uk
Please watch out for the blog on taking a screenshot in Windows 11.